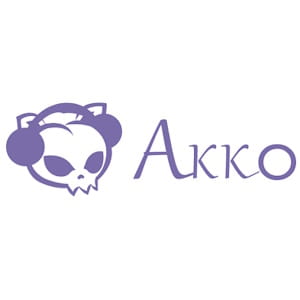 Akko Keyboards
Mechanical Keyboards, Keycaps, Switches and Accessories by Akko
Keyboards
Switches
Keycaps
About Akko Keyboards
Akko was founded in Shenzhen, China in 2016 with the concept of "lifestyle gaming peripherals", emphasizing design and building an innovative peripheral brand. "Diversifying the industry" is what motivates Akko founders, who have engaged in the computer peripheral equipment industry and the gaming industry for years with new ideas to "make peripheral more than just a tool" by embodying pop-cultural imagery, color trends, interests, attitudes and cultural elements.
We offer custom mechanical keyboards and are backed up by its robust and integrated supply chain with deep collaboration with mainstream switch suppliers and factories. Apart from its independently developed switches, Akko has co-developed proprietary switches with TTC and Gateron to meet the needs of different user groups. Akko is one of the brands with the most diverse selections of mechanical keyboard layouts in the world. It is dedicated to offering comprehensive keyboard size options to users including 108-Key (Full Size), 98-Key, 100-Key (96%), 87-Key (TKL), 84-Key (75%), 68-Key (65%), 61-Key (60%) arrangements. Our customer-centric mission is that every user is able to find their desired colors, layouts and switches.
Akko is also the world's leading keycaps manufacturer with years of experiences in producing PBT Dye-Sublimation and Double-Shot keycaps, which forms a solid base for our keyboard design. Akko offers keycaps with a variety of profiles such as OEM, Cherry, OSA, ASA and DSA, which has brought unique typing experiences for different users and ensure everyone finds comfortable keycaps that fit.